thinkSMALL began in 2007 in Bangkok, Thailand. thinkSMALL Foundation trains, equips and mobilizes local children's workers and teachers to serve, protect and empower children to become influential leaders among their peers. Focusing on reaching the 'heart' of children through entertainment and knowledge thinkSMALL has reached over 61,000 children in Thailand, Vietnam, Burma and Laos. Although Christian-led, thinkSMALL serves organizations of all faiths.
Vision
thinkSMALL's vision is to develop leaders who will transform communities through their commitment to service, peace and moral/spiritual living. thinkSMALL develops these values in children so that they will begin to lead today and into the future.
Meet the Directors
| | |
| --- | --- |
| Gary Hays, Foundation Director | Paula Hays, Project Director |
Gary Hays is the Director and Board Chairman of thinkSMALL Foundation. Gary and his wife Paula have lived in Thailand since 2005. They are from Seattle, Washington (USA). Gary and Paula have an extensive business and Christian ministry background. Gary has owned 2 businesses, was a national account manager for Nestle USA and has trained sales organizations in 48 states. Gary and Paula are licensed Christian ministers. They are dedicated to helping Asian leaders teach and inspire children to live abundant physical, emotional and spiritual lives.
Gary also serves with the following organizations:
SanJai Network (A Thailand Holistic Social Network serving children and women nationwide) Steering Committee member

4/14 Global Initiative: A Thailand representative to global movement to reach, empower and mobilize children to transform communities and nations
Team Leaders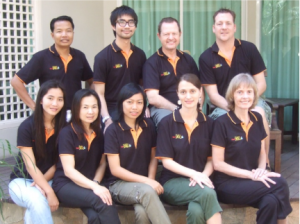 Bangkok Team Leaders:
| | |
| --- | --- |
| Sathit Sutancharoen (Dong or Simon), National Coordinator | Jittakan Sirisaengtawan (Pim), Bangkok Coordinator |


| | |
| --- | --- |
| Chadaporn Thaworn (Gook), IT Administrator | Phakamas Kongchim (Ole), Training and Supplies Officer |
Issan Coordinators

Thannanoon (Tom) and Sommai (Mai) Isising

Chiang Rai Coordinators

Jason and Toby Long